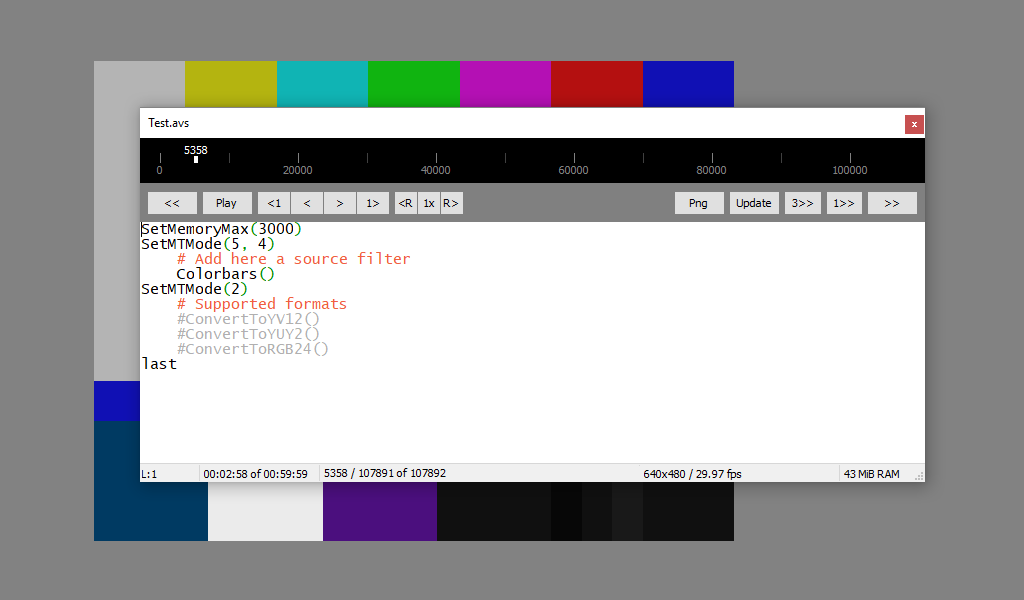 Full screen video player.
Easy navigation to every frame number.
Fast mouse zoom to see every video pixel.
Integrated text editor to edit and fast reload AviSynth scripts.
A possibility to edit and show two different scripts.
Auto-save script on exit to fast use in batch processing.
Can be used as a simple video player without AviSynth editor controls.
LARGEADDRESSAWARE memory usage.
A multi-display computer is supported.
Compatible with high-DPI.
System Requirements
Windows XP/Vista/7/8/10.
Graphic card/GPU with DirectX9 and VMR9 support.
Video Compatibility
Video playback over DirectShow x86 codecs.
AviSynth/MT x86, AviSynth+/MT x86.
Video Input: YV12, YUY2, RGB.
Pro Edition
Syntax highlighting.
Save frame as a PNG image.
Updates and Improvements
If you have found a bug or an issue, feel free to report it to the author. We can help many users worldwide.
Use 7-zip to extract a 7z archive. LAV-Filters x86 codecs are recommended.